Urban Opportunities
For adolescents living in poverty, the ability to get a job increases their self-esteem, reduces their chances of dropping out of school or engaging in risky behavior, and helps ensure their self-sufficiency as adults.
Yet low-income youth typically have less access to employment, job training opportunities, and career skill resources. They may lack the network of connections and contacts enjoyed by their more privileged peers. Our program was designed to close this gap, increasing participants' knowledge of the job seeking process, engagement in the learning process, and self-confidence.
Urban Opportunities serves the most at-risk youth in the community. We serve those that are from homeless and low-income families, in foster care, adjudicated, or attending high schools with high drop-out rates and large minority populations.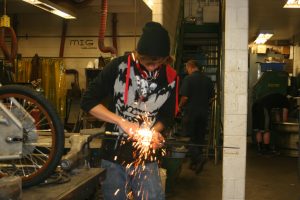 Our three-month curriculum focuses on job skills such as resume-writing, creating employment opportunities through partnerships with local businesses and college and career exploration.
We currently work closely with students at Jefferson, Roosevelt, Madison, Parkrose, Gresham, Centennial, Franklin, David Douglas, and Reynolds High Schools and the Metropolitan Learning Center.
Last year, 98% of participating students told us that Urban Opportunities had given them an increased knowledge of finding a job—and half of these students were placed in on-the-job employment training internships!