Impact NW's Early Childhood Services help hundreds of children and parents become stronger, safer and more stable each year.
1
,
106
children and their parents are stronger, safer, and more stable each year thanks to our programs.
100
%
of participating parents feel more confident in their parenting skills.
97
%
of the children participating are on track in their motor and social/emotional skills.
85% of a child's brain development occurs before they are 5 years old.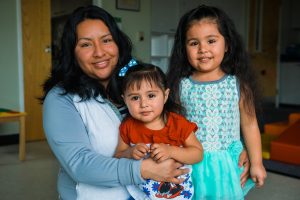 Yet children born into poverty often do not receive the physical, emotional or cognitive support they need to grow up and lead healthy, happy, productive lives.
We work closely with struggling families through regular home visits where we connect them with the services that best meet their needs and provide early childhood education and support.  Our staff also facilitate parent-child activity groups, host a "Community Dad's Forum" where fathers support each other in discovering the challenges and rewards of fatherhood, and provide developmental screenings and immunization checks.
We Believe:
Children are born ready to learn
Children learn most from the people they love
Parents and families are children's first and most important teachers
There is nothing more important to a child's development than the parent-child relationship
Impact NW Early Childhood programs uses the guiding principles developed by parents in Early Learning Multnomah's Parent Accountability Council to guide our work with children & families.
Samantha's Story
Samantha, a single mother of three suffering from Post Traumatic Stress Disorder and depression, relied on welfare to support her family. Thanks to Impact NW's Early Childhood & Family Services programs, Samantha was able to go back to school, find employment, and provide a loving home for her children.
"I just wanted to let you know how much it meant to me that you were so caring. You advised me with complete respect and understanding and you weren't judgmental or criticizing. I had a very positive experience and was able to learn many valuable parenting techniques."