Acerca de Impact NW
At Impact NW, we prevent homelessness by partnering with people navigating their journey to stability and opportunity. We serve as a community of care against these challenging times to help people dream big, find financial stability and live a beautiful life.
Founded in 1966, we serve more than 30,000 people a year in the Portland-Vancouver area through programs that stabilize and strengthen. Our programs focus on all ages, from newborn to elders, and help people facing housing insecurity find relief and build strengths, experiences and opportunities. More than half the people we serve identify as Indigenous, Black, Brown, Melanated, Immigrant or Asian, as does our staff.
To change lives, we partner with local and state government, health care and other nonprofit organizations to deliver more than 30 programs across four main areas: Housing, Youth and Family, Early Childhood and Seniors. More than 94% of the clients we serve say that we help them stabilize and strengthen their lives.
A Top 50 Portland-Area Nonprofit (Portland Business Journal), our work is rooted in the notion of self-care and resourcefulness. We don't just point people in the right direction, we move alongside them, helping to bridge complex, unjust systems that often stigmatize those most in need.
Our History in the Community
We have always responded to our community's most pressing needs. Formed in 1966 by neighbors in Portland's Buckman neighborhood, community members came together to combat poverty and deteriorating conditions in Southeast Portland. The agency was originally named Portland Action Communities Together, Inc. (PACT).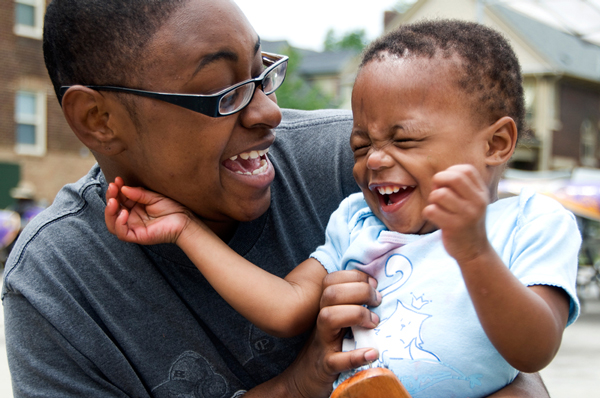 Our early initiatives included employment programs, family counseling, food buying clubs, and a tool lending library. We helped develop Southeast Portland's first Senior Center, Youth Service Center, and free health clinic. In the 1990s, we piloted Multnomah County's first Parent-Child Development Services program and the Schools Uniting Neighborhoods (SUN) program. Throughout our organizational history we have always aimed to help people thrive and remain safely housed.
The organization was renamed Portland Impact in the 1980s, and later Impact NW as we expanded our services outside the Portland Metropolitan area.
Our Values
See the beauty in people.
Humans are dynamic and complex, and their challenges doubly so. We seek to understand that complexity both with clients and each other. Self-care and empathy enable us to show up as our best authentic selves — being open to conversation, walking alongside our clients in their journey, and recognizing the beauty of our shared experience.
Promote peace.
We believe in shared success — and know that when individuals are held back, our community is also held back. Providing help for those who need it most ultimately supports everyone. That's what peace means to us: a sense of justice and fairness that benefits the most people.
Find a way.
Our work can be challenging, which is why it's critical to maintain optimism. We strive to be a leader in our space, knowing that the responsibility of long-term solutions ultimately lies with us. We are resourceful, tenacious, and willing to do the hard work of making a better future possible.
Put people first.
Systemic change requires the courage to do something different. We focus on what works — emphasizing the impact on human lives over theoretical pretenses. Many of our systems are structured around oppression and inequity, so working within them requires dismantling and rebuilding them. We start every conversation with the question, "What do people really need?"
What Makes us Different
Our approach to self-care
We believe everyone has the right to a beautiful life, and that idea is ignited in our approach to self-care. By acknowledging the complexity of our individual experiences, we create opportunities for healing and peace. This is reflected in the extraordinary flexibility and support we show to our clients, employees, and community.
Our commitment to anti-racism
As anti-racists, we dismantle broken systems and ideologies, establishing structures of justice in their place. We commit to addressing the challenges our clients face by evolving our services and programming to meet the realities of historically excluded individuals and families, across all cultures and identities.
Our focus on culturally responsive, trauma-informed care
As a multicultural team with diverse lived experiences, we recognize the nuances of each client's journey and fully invest in helping them build a better future. In this way, the community we serve acts as a mirror, allowing us to reflect on the barriers we've faced and show up more authentically in every interaction.