Kits de impacto
La falta de vivienda es una experiencia desafiante. Para las personas que viven afuera, parece que el mundo no los conoce. Para todos los demás, existe una creciente y profunda preocupación por las personas que viven al aire libre.
Multnomah County's Point-in-time homeless count is a total of 4,177 people. Additionally, more than 50,000 people in the Portland area live on the verge of homelessness. One health crisis; emergency room visit, or a lost job can land a family in a shelter or in a tent. The trauma is devastating. Everyone in our community suffers.
Our Impact Kits initiative is a collaboration with Portland's tech sector to raise awareness of the situations facing people living outside in Portland, and also an opportunity to make a meaningful impact by offering some basic supplies for this marginalized population. Each kit contains basic hygiene items, food, water, and a resource guide. They also contain a lifeline. Volunteers assemble and distribute these kits; creating a human connection that can lead to real change for everyone.
Cómo participar
¿Interesado? Únete a nosotros Veterans Day, Nov. 11, 2019, as we meet up at Prosper Portland from 10:00 am to 12:30 pm to assemble 300+ kits and hand them out to people outside. This will be a powerful service learning opportunity. To get involved, just email us at volunteer@impactnw.org. Better yet, get together with your place of work and sponsor. See below.
Este proyecto está diseñado teniendo en cuenta a la comunidad tecnológica: es flexible, fácil de participar y optimiza la experiencia de la comunidad y los empleados.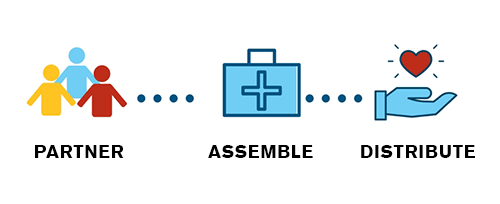 Como partidario de Kits de Impacto para el Día de los Veteranos, no solo ayudará a proporcionar más de 300 kits, completos de higiene y otros elementos esenciales, sino que también admitirá Impact NW's. esfuerzos durante todo el año para evitar que las familias pierdan sus hogares.
Empezar
Get started by choosing a sponsorship level:
| Friend – $500 | Advocate – $1,500 | Champion- $2,500 |
| --- | --- | --- |
| 15 guests invited to the Veteran's Day Impact Kit event | 25 guests invited to the Veteran's Day Impact Kit event | 35 guests invited to the Veteran's Day Impact Kit event |
| Social media coverage and day-of recognition | Social media coverage and day-of recognition | Social media coverage and day-of recognition |
| Impact Kit Steering Committee invitation | Impact Kit Steering Committee invitation | Impact Kit Steering Committee invitation Widget created to advertise your community support |
| | Widget created for your website to advertise your community support | Partnership story shared on LinkedIn Company page |
| | | Recognition on Impact NW website |