Tác động Kits
Vô gia cư là một trải nghiệm đầy thử thách. Đối với những người sống bên ngoài, có vẻ như thế giới không biết về họ. Đối với những người khác, có mối quan tâm ngày càng tăng và sâu sắc đối với những người sống ngoài trời.
Multnomah County's Point-in-time homeless count is a total of 4,177 people. Additionally, more than 50,000 people in the Portland area live on the verge of homelessness. One health crisis; emergency room visit, or a lost job can land a family in a shelter or in a tent. The trauma is devastating. Everyone in our community suffers.
Our Impact Kits initiative is a collaboration with Portland's tech sector to raise awareness of the situations facing people living outside in Portland, and also an opportunity to make a meaningful impact by offering some basic supplies for this marginalized population. Each kit contains basic hygiene items, food, water, and a resource guide. They also contain a lifeline. Volunteers assemble and distribute these kits; creating a human connection that can lead to real change for everyone.
Làm thế nào để tham gia
Quan tâm? Tham gia cùng chúng tôi Veterans Day, Nov. 11, 2019, as we meet up at Prosper Portland from 10:00 am to 12:30 pm to assemble 300+ kits and hand them out to people outside. This will be a powerful service learning opportunity. To get involved, just email us at volunteer@impactnw.org. Better yet, get together with your place of work and sponsor. See below.
Dự án này được thiết kế với cộng đồng công nghệ cao trong tâm trí - nó linh hoạt, dễ dàng tham gia và tối ưu hóa cộng đồng tốt cũng như kinh nghiệm của nhân viên!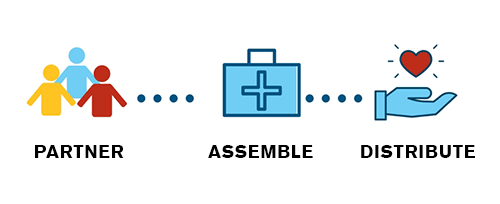 Là người ủng hộ Impact Kits cho Ngày Cựu chiến binh, bạn không chỉ sẽ giúp cung cấp hơn 300 bộ dụng cụ, đầy đủ vệ sinh và các yếu tố cần thiết khác, mà còn hỗ trợ Impact NW's nỗ lực quanh năm để giữ cho gia đình không bị mất nhà cửa.
Bắt đầu
Get started by choosing a sponsorship level:
| Friend – $500 | Advocate – $1,500 | Champion- $2,500 |
| --- | --- | --- |
| 15 guests invited to the Veteran's Day Impact Kit event | 25 guests invited to the Veteran's Day Impact Kit event | 35 guests invited to the Veteran's Day Impact Kit event |
| Social media coverage and day-of recognition | Social media coverage and day-of recognition | Social media coverage and day-of recognition |
| Impact Kit Steering Committee invitation | Impact Kit Steering Committee invitation | Impact Kit Steering Committee invitation Widget created to advertise your community support |
| | Widget created for your website to advertise your community support | Partnership story shared on LinkedIn Company page |
| | | Recognition on Impact NW website |