冲击套件
无家可归是一种充满挑战的经历。对于生活在外面的人来说,似乎世界并没有意识到这些。对于其他人来说,生活在户外的人越来越深切关注。
Multnomah County's most recent Point-in-Time Count of Homelessness identified more than 2,000 people living unsheltered, nearly 1,500 sleeping in emergency shelters, and approximately 500 in transitional housing. Another 50,000 people in the Portland area are lving on the verge of homelessness. One health crisis; emergency room visit, or a lost job can land a family in a shelter, a tent, or on the street.
In collaboration with local businessess and community leaders, Impact Kits is an opportunity to educate the public about the the traumas of homelessness and to make an impact on the lives of some of our most vulnerable community members. Each kit contains basic hygiene items, food, water, and a resource guide. Volunteers assemble and distribute these kits; creating a human connection that can lead to real change for everyone.
Read more about last year's Impact Kits event and the impact more than 100 volunteers made!
该项目的设计考虑了技术社区 - 它灵活,易于参与并优化社区优势和员工体验!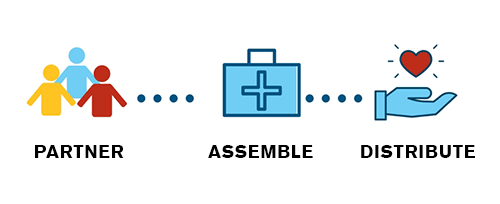 作为退伍军人日影冲套件的支持者,您不仅可以提供300多个套件,充满卫生和其他必需品,还可以支持Impact NW的 全年努力 让家人失去家园。
For any questions or inquiries about involvement, email us at volunteer@impactnw.org