The Jade Journal – A Voice Discovered
Impact NW's SUN Community School students create diverse community newspaper titled The Jade Journal
At Harrison Park Elementary, one of Oregon's most diverse schools in a neighborhood struggling with poverty and crime, a group of fifth-graders left their classroom and became active participants in their neighborhood.
Learning about its structure, residents, and businesses, they then used that knowledge to call for change. What they found went into a 26-page newspaper translated into English, Chinese and Spanish that they named The Jade Journal.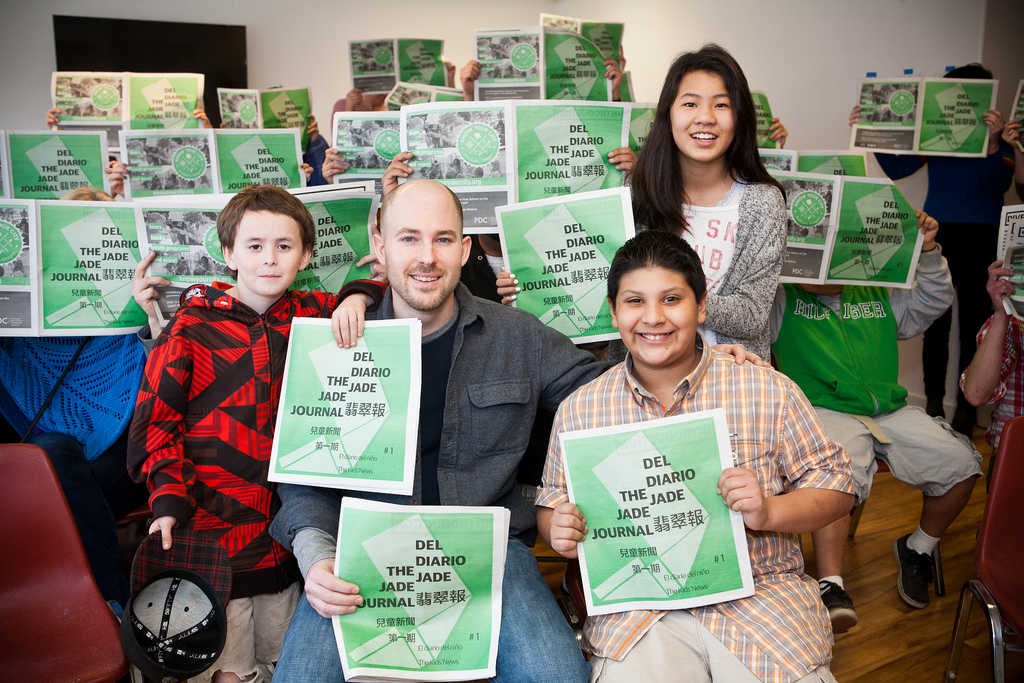 "The Jade Journal" began as an idea of Marc Moscato, Executive Director of Portland non-profit Know Your City. To get the project off the ground, Moscato enlisted the help of Impact NW's SUN Community Schools program operating at Harrison Park Elementary. The goal of the project was to celebrate the great diversity of the area, as well as educate the kids on issues of equity and civic involvement.
Several 10- and 11-year-old students at the Harrison Park SUN Community School participated in the project. The Jade Journal took three months to complete, and upon completion the students were given a chance to speak to the Portland City Council during a March 11 council session. They spoke about the lack of adequate parks in their neighborhood and about walking to school and not feeling safe because of criminal activity and the lack of sidewalks.
"We need more traffic lights and crosswalks because people are getting hit by cars," said Harrison Park Elementary student Joe Chan. "They need to be longer because some people are old and they can't walk that fast."
"I'm here to speak up about healthy food in my neighborhood," said Samantha Martinez-Mendoza. "I live next to a 7-Eleven, and I sometimes wonder, 'Why don't I live next to a healthy grocery store?' When we are almost out of fruits and vegetables, my mom has to drive far away to get them."
"The kids get it. They see their park doesn't have any benches, and there's a park on the west side that's getting all this money for renovation," Moscato said a few months after the council session. "So, it was cool to do a newspaper in a neighborhood with a group of people who don't really have a voice. It was a great, empowering experience for the students. To then have them produce something that further educated the community was such a valuable thing."