Press Release: Impact NW's 2019 Annual Luncheon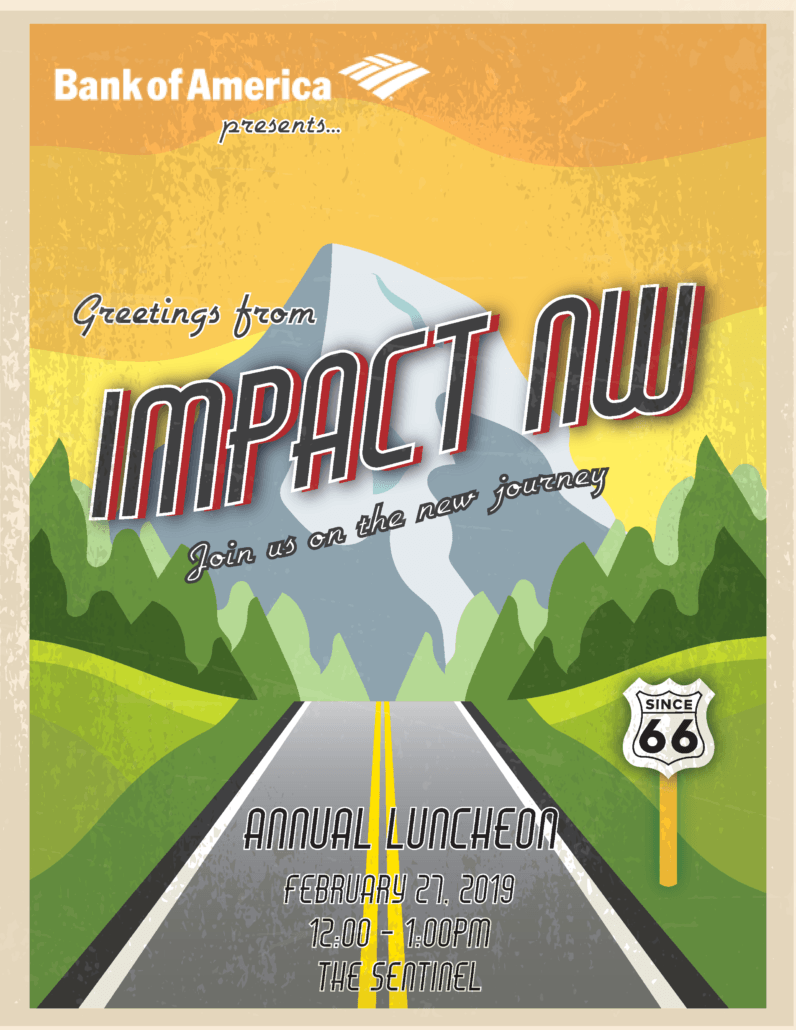 FOR IMMEDIATE RELEASE: 2/4/2019
Contact: Ada Dortch,
Development Director
Phone: (503) 294-7416
Email: adortch@impactnw.org
IMPACT NW TO UNVEIL NEW STRATEGIC DIRECTION
New direction for organization to combat region's housing crisis to be highlighted at one hour event.

Portland, Oregon: Impact NW will reveal its new strategic plan and brand identity at its one hour Annual Luncheon on February 27, 2019 at The Sentinel Hotel. The luncheon, presented by Bank of America, will highlight Impact NW's renewed commitment to preventing homelessness.

Impact NW has a 53 year history of working alongside children, families, veterans, and seniors as they navigate their journey to stability and opportunity. In response to the housing crisis that has gripped the region, Impact NW is unveiling its unique position to address Portland's most pressing issue.

"This luncheon represents a pivotal moment for our organization: where we reveal our new direction to all of our stakeholders, honoring the history of our organization while showing people how we will work to address the housing crisis," said Jeff Cogen, Executive Director of Impact NW.

"This new strategic direction is really a return to the roots of our organization," said Andy Nelson, Associate Director of Impact NW. "We're reclaiming our position as a steadfast advocate within Portland: providing relief to people experiencing the housing crisis while making meaningful progress to change it."

The Impact NW Annual Luncheon is a one-hour event where we will come together as a community of neighbors, activists, business leaders, and professionals to address the crisis and help families stay housed.
The event will feature Homer Williams as a keynote speaker, Impact NW's new strategy and brand reveal, and recognize a client and community partner.
This year's luncheon will be held on Wednesday February 27, 2019, 12:00 PM at The Sentinel Hotel.
Tickets for the luncheon are on sale now for $25/ticket at https://impactnw.org/events/annualluncheon/
https://impactnw.org/wp-content/uploads/2019/02/FINAL-AL-Sponsorship-front-page-with-BoA-logo-1.png
3300
2550
Impact NW
https://impactnw.org/wp-content/uploads/2019/09/Impact-NW-Updated-Logo-yellow.png
Impact NW
2019-02-04 10:06:28
2019-09-11 15:11:51
Press Release: Impact NW's 2019 Annual Luncheon