Impact NW Appoints New Deputy Director

June 18, 2019
Impact NW has named a new Deputy Director as it focuses on its new mission of preventing homelessness.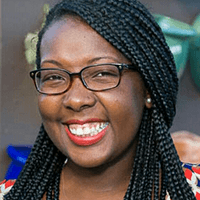 Kendra Johnson, a 10-year Impact NW employee, starts as Deputy Director on July 1 as the organization's #2 employee and leader of all programs and program staff. Currently Director of Youth & Family Services at Impact NW, Kendra brings considerable professional and life experience to the new role. 
"Kendra brings a wealth of talent and experience—both personal and professional—that make her an ideal candidate for this position," said Andy Nelson, Impact NW's Executive Director. "She will play a significant role in leading our organization to its new focus on preventing homelessness."
Impact NW this year announced a new mission focused on preventing homelessness by both stabilizing and strengthening individuals and families amid the region's housing crisis. The Impact NW Board of Directors also adopted a new strategic plan and named Andy Nelson as Executive Director on April 2.
"Kendra will lead our efforts to align our programs and services to the new mission," Nelson said. "She's ideal for the role. In her decade at Impact NW, Kendra has accrued an impressive track record and has progressively taken on new roles and challenges. She has developed programs, relationships, systems and a culture that drive our organization's high performance. Her strong, consistent leadership is a key reason why Impact NW has sustained exceptional service delivery throughout her time with Impact NW. I know she will play a big role in our future."
Kendra was born and raised in Northeast Portland, where she has lived her whole life. Her experiences as a young person led her to focus her life on giving back.
"The experience of having my first child pass away at 15 months old inspired me to embark on a career in social services, to help others learn about the importance and power of advocacy in challenging circumstances," Kendra says.
After her child passed away, Kendra dropped out of high school. Kendra found mentors and a support system that encouraged her to go back to school—she went on to earn a bachelor's degree and became a Master of Social Work—and channel her loss to advocate for positive change. "This experience of mentorship makes me want to fill that role for others: to help people rediscover their resilience and navigate broken systems," Kendra says.
As Deputy Director, Kendra's ability to lead and enact positive change will only expand.
"Kendra will help chart the next phase of Impact NW's growth as an organization, taking us in new directions and helping us organize in new and powerful ways," Nelson says. "Above all, we are excited to see how Kendra's leadership enables our organization to continue distinguishing itself as an organization that succeeds in building the community and capacity needed to tackle our most pressing issues."
*****

About Impact NW: Impact NW has always responded to our community's most pressing needs. Formed in 1966 by neighbors in Portland's Buckman neighborhood, Impact NW is making a major shift and focus in 2019 to support people and families on the edge.

Impact NW's new mission is to prevent homelessness by partnering with people as they navigate their journey to stability and opportunity. The key to our interventions is working with individuals and families at risk of losing their housing. More than 50,000 people in the Portland area live on the verge of homelessness. One health crisis; emergency room visit, or a lost job can land a family in a shelter or in a tent. The trauma is devastating. Everyone in our community suffers. Impact NW supports people before it's too late in two main ways: We stabilize by offering services such as rent, utility and other supports. And we strengthen by offering job training, parenting support, and opportunities for children.
https://impactnw.org/wp-content/uploads/2019/06/leadership_kendrajohnson-1.png
200
200
Impact NW
https://impactnw.org/wp-content/uploads/2019/09/Impact-NW-Updated-Logo-yellow.png
Impact NW
2019-06-18 11:52:12
2019-11-14 12:34:02
Impact NW Appoints New Deputy Director