AWS Elemental makes science kits to support educational opportunities for Impact NW youth programs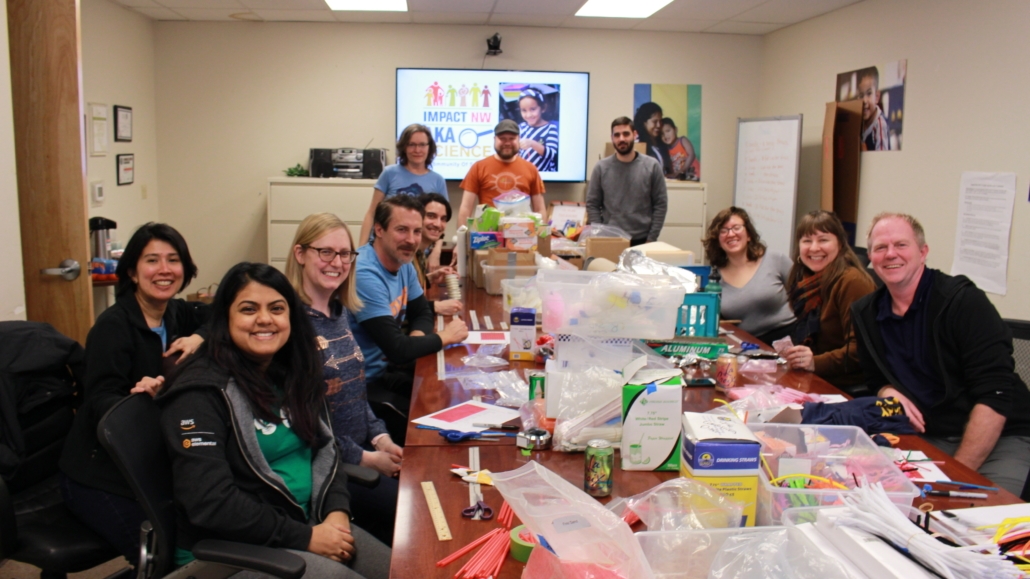 During the month of February, AWS Elemental brought employees to our Dancing Tree Resource Center to build science kits for Impact NW's AKA Science (All Kids Are Scientists) program, which provides provide fun, hands-on, interactive science education curriculum and materials to over 50 schools in the Portland area.

The kit building is part of a longstanding partnership between Impact NW and AWS Elemental.

""[AWS employees] get to learn about the organization: what it does, how they're helping out the community," says Joan Morgan, technical marketing engineer for AWS Elemental, who has volunteered with Impact NW for five years. "When you go back to work you feel inspired; it kind of clears your mind."


"I really, really like the idea of getting kids exposed to science: doing the experiments, learning about the world, how it works, helping kids learn that there's a lot out there to discover."

"Partners like AWS are really important because they come back year after year to help us build, and they know these kits really well," says Kathryn Sechrist, Program Supervisor for Impact NW's AKA Science program.

The current round of kits will support one of AKA Science's Fun Physics topics: Forces & Motion. AKA Science kits are geared towards grades K-6, and provide all of the curriculum and supplies for eight weeks of science education. The program supports 900-1200 youth per year by training class leaders to deliver the program's enriching educational experiences in science, technology, engineering, and math (STEM) in their afterschool programs.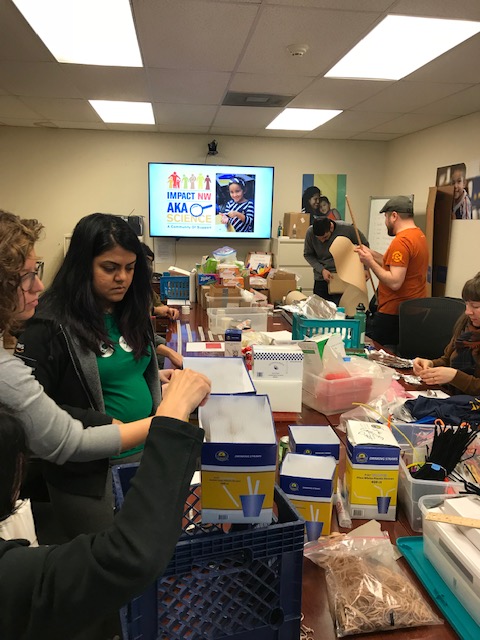 "The point is [for students to have] fun," says Sechrist. "It really builds their confidence – it's inquiry based, which is student led, so it's [about] getting kids comfortable with asking questions and sharing ideas with each other, and embracing when something doesn't go right."

Sechrist and her team are also clear about how the AKA Science program carries out the mission of Impact NW, which is to prevent homelessness by partnering with people as they navigate their journey to stability and opportunity. "On a really basic level, we're strengthening underserved communities by providing a safe place for kids to be after school where they can have fun learning about science and build meaningful connections with each other."

Lauren Leffer, AKA Science Program Coordinator, adds, "It empowers kids to take control of their own education, but also there's a lot of research to back up that if kids have one or two positive experiences in the classroom, they're more likely to stay in school and be enthusiastic about their education."

"[The program] really does improve self-esteem and the belief that they can build a better future for themselves," says Sechrist.

Impact NW is gratified by its partnership with AWS Elemental, and sees its mission come to life through the important work of AKA Science.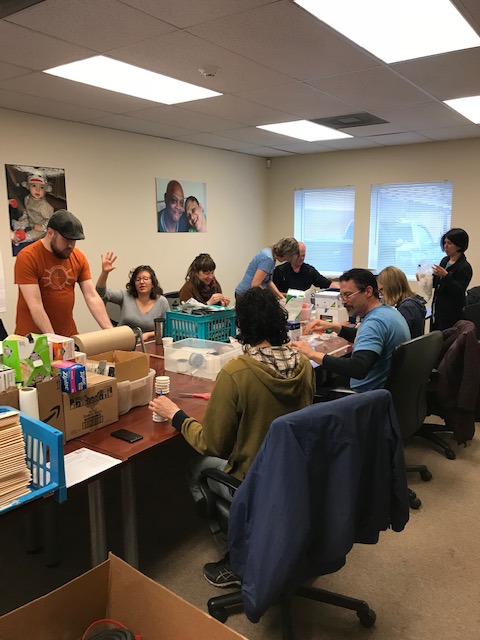 https://impactnw.org/wp-content/uploads/2019/03/IMG_5046.jpg
2912
5184
Impact NW
https://impactnw.org/wp-content/uploads/2019/09/Impact-NW-Updated-Logo-yellow.png
Impact NW
2019-03-08 12:48:39
2019-09-11 15:12:29
AWS Elemental makes science kits to support educational opportunities for Impact NW youth programs