Celene's Story
October 25th, 2021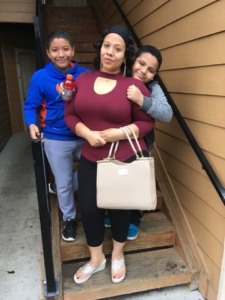 Celene didn't know where to turn for help for her and her two sons. She was surviving a domestic violence situation, behind on rent payments, and felt very alone with no family around. "I just didn't know that there were good people out there wanting to help," says Celene.
Celene came to Impact NW through our hospital-based resource navigation services. It is a unique model in that staff are onsite to assist individuals and families in need of support to get connected to resources. It is a free and confidential service open to everyone despite their level of health care coverage and provider. Impact NW operates five Community Resource Desks at Providence Health and Services locations, and four desks at Kaiser Permanente locations. Our services support people by navigating the social service sector and connecting them to the vital resources they need.
Impact NW staff were able to connect Celene to a range of resources and support in her housing and other goals. Staff connected her to rent and utility assistance, back-to-school clothes for her two sons, bus tickets to get to work, household furnishings, information on job training opportunities and English language learning classes. With this support, we were also able to alleviate other costs that she was facing.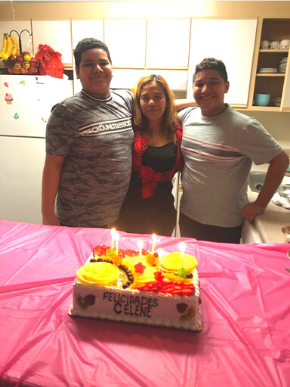 Impact NW knows that when families are facing the stress of living poverty and housing insecurity, navigating a complicated social service sector adds additional burden. The pandemic adds additional strains for families struggling to find resources. And, staff are ready to walk alongside people like Celene in their journeys.
Today, Celene continues to work on her goals – she and her sons are safe and stable in their home, she has a job, and is working on taking classes and saving money for a car. Impact NW is grateful to have supported Celene during this time in her life. And, Celene knows that there are organizations like Impact NW that help people.
"I have been able to grow and have a more positive outlook on life and know that there are good people in the world. I am very grateful to Impact NW and the big hearts of the workers at Impact NW." – Celene
In the tri-county area, there are about 100,000 people on the verge of homelessness. One hospital room visit, one missed rent payment, or one missed paycheck can result in a family losing their housing. "Resources help, but the need is so great and the population needs it more than ever." – Jamie, Community Resource Desk Lead Specialist 
"In my two years working with Impact NW, I have noticed the serious challenges that community members face every day. Staff at Impact go above and beyond to assist those in need and I am proud to be part of such an incredible agency. We all work together to make sure people are connected to resources and supported. What makes Impact NW stand out is the love that is put into the work being done."  – Jamie, Community Resource Desk Lead Specialist