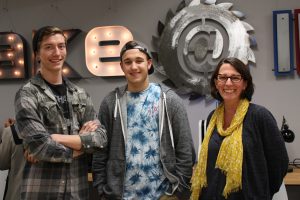 Impact NW is pleased to reveal an exciting new project. On Monday, November 9 the Make@Impact maker space located at 10055 E. Burnside, Portland, OR opened its doors to our supporters and members of the community. Guests had the opportunity to meet Pathways to Manufacturing students, see the brand new manufacturing equipment, and learn more about the future of this program.
Mayor Charlie Hales was in attendance and shared why he is so passionate about programs like Pathways to Manufacturing: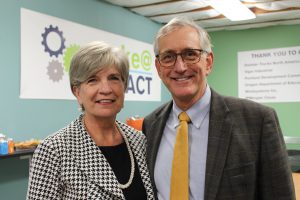 "As a young man a family friend offered me a job in construction. That job taught me the invaluable skill of working with my hands which eventually brought a whole understanding of how buildings are constructed and an even broader interest in how cities are built. I believe it was that job at the very beginning that got me to where I am today. That is why I believe in programs like this."
Thanks to generous financial donations from our supporters including Vigor Industrial, Daimler Trucks North America, the Portland Development Commission and many more – this maker space lab has been designed to host workshops and open learning lab hours for Pathways to Manufacturing students.
Working with schools and industry partners, Impact NW's Pathways to Manufacturing Program creates clear pathways to careers in the manufacturing industry among Portland area youth and their families.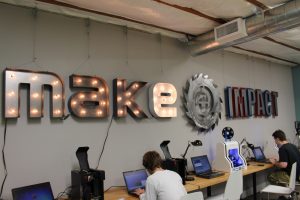 "Through Pathways to Manufacturing we are training and employing students who are now well motivated people in our workforce. Vigor is honored to be a part of the process and want to see these kind of initiatives grow. It's time to start evolving and redefining what community means and how we can help," said Frank Foti, CEO of Vigor Industrial.