Bishops Barbershop and Impact NW Team Up to Bring Hope and Help at the Holidays
PORTLAND, Oregon — Portland's hippest barbershop is teaming up with one of its most impactful nonprofits to help neighbors in need this holiday season. To celebrate, Bishops Barbershop will provide free haircuts at Impact NW (10055 E Burnside St, Portland) on Wednesday, Dec. 7th, from 9 am to noon.
"We are so delighted that Bishops is showing the people we care for some added attention this holiday season," said Jeff Cogen, Impact NW's Executive Director. "Like us, they were founded right here in Portland and really step up to support their neighbors."
Media is invited to the Dec. 7 event. Please contact Andy Nelson at (503) 721-1767 for more information.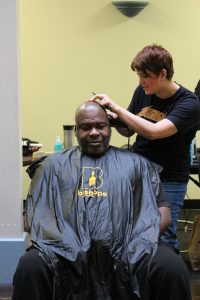 In addition to providing free haircuts, Bishops is anchoring Impact NW's Holiday Hope Drive.  Bishops is hosting giving garlands at its Portland-area locations to encourage its customers—and anyone else who wants to help—to buy holiday gifts for Impact NW's clients.  If you do, Bishops will provide a sweet deal on your next haircut.
The Holiday Hope Drive will support more than 3,000 people this year with gifts and coats. Cash donors, through the Drive and through Willamette Week's Give!Guide, help keep services running strong throughout the year for the more than 36,000 people served each year by Impact NW.
Also supporting the Holiday Hope Drive is Living Room Realty, Nike, Propeller Consulting, and Heffernan Insurance.
For more information on the Holiday Hope Drive, please visit www.holidayhopedrive.org.
---
About Impact NW
Impact NW is a premier provider of educational and social services in the greater Portland metro area.  The organization's mission is to help people prosper through a community of support. Since 1966, Impact NW has been a leader in providing individuals of all ages with the skills and resources necessary to achieve success and to advocate for themselves and their communities. Annually, over 36,000 low-income children, youth, families, seniors, and adults with disabilities participate in Impact NW's comprehensive programs. Learn more at www.ImpactNW.org.
About Bishops Barbershop
Bishops is a barbershop-salon hybrid for Generations X, Y and Z that delivers on demand high-end salon quality services at affordable prices in a casual, fun environment. Bishops has been a Portland fixture, making folks beautiful for the past 15 years. Bishops knows the value of community, which is why they support programs and nonprofits that invest in people, animals and the environment. Over the last few years, Bishops donated over $55,000 worth of services to nonprofits for auctions and fundraisers. Today, there are 16 locations throughout Oregon and Washington.