Grow: The Advantis Community Fund Makes an Unprecedented Investment in Our Community
April 30, 2020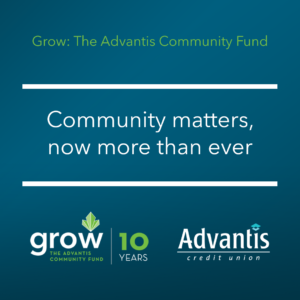 Advantis Credit Union is responding to the increased needs of our most vulnerable community members with an immediate and unprecedented $100,000 investment in 5 local nonprofit organizations: Sunshine Division, Store to Door, Outside In, Human Solutions Inc., and us—Impact NW.
From food boxes and grocery delivery to rent and utility assistance and access to both mental and medical health services, this investment made by Advantis Credit Union is helping to meet the most pressing needs of our most vulnerable neighbors at this most critical moment in time. 
"We recognize immediate funding is critical to local nonprofits — especially those providing essential services like food, utility assistance, and medical care," said Bob Corwin, Advantis president and CEO. "We doubled our donations through Grow to $100,000 and are awarding grants directly to five nonprofits we recognize are providing vital services during this pandemic." 
With so many of our neighbors struggling to remain stable during, before and unfortunately long after COVID-19 has passed, the impact made by Grow: The Advantis Community Fund will continue to spread waves of stability across our shared community. 
All of us at Impact NW are grateful for the work being done to lift our most vulnerable community members by the wonderful organizations providing vital services at such a crucial time.