Impact NW is Looking to Onboard New Ambassador Board Members!
February 9, 2021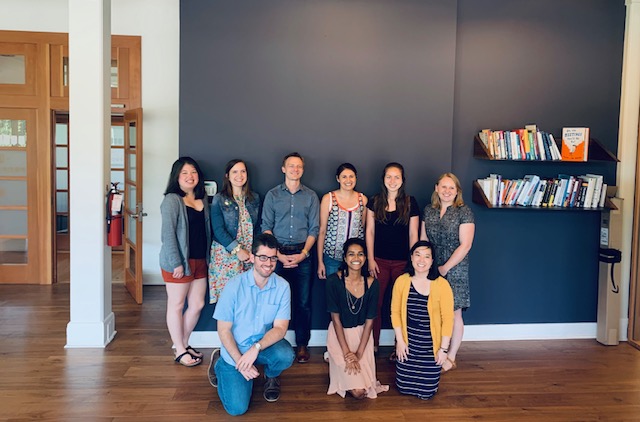 Launched in 2018, the Impact NW Ambassador Board (AB) is composed of emerging professionals who act as Impact NW (INW) ambassadors within their communities, promoting Impact NW to an expanded network and fostering the next generation of supporters. We raise friends and funds for Impact NW by supporting the organization's development efforts, including, marketing and communications, event-planning and donor solicitation and stewardship efforts. AB members come from a variety of industries and organizations across the Portland Metro area, and share a common commitment to Impact NW's mission: preventing homelessness by partnering with people as they navigate their journey to stability and opportunity.
Examples of Types of Engagement With the Ambassador Board:

Promote Impact NW's activities, events, and fundraising efforts to your professional and personal networks via social media, virtual and in-person networking, and direct reach outs,

Engage your professional and personal networks to support Impact NW fundraising efforts with donations of cash, goods, or in-kind services

Partner with Impact NW Staff to plan, support, and promote Impact NW marquee and ad hoc events,

Make a personal donation to Impact NW in a meaningful amount, pledged at the beginning of the year and separate from other fundraising efforts,

Attend Ambassador Board meetings (6x per year; remote attendance supported),

Participate in Impact NW site visits and volunteer activities as your schedule allows,

Expand your own professional and personal networks via your fellow AB members, Impact NW staff and Impact NW Governing Board members,

Access mentorship opportunities via Impact NW's Governing Board.
"Being one of the founding Ambassador Board members has been really rewarding. We have grown with Impact NW over the last two years – from hosting a Schmizza quiz night to fundraising for annual events and much more.  Serving on the AB has given me a chance to work with amazing people as well as connect my workplace with Impact NW. I recommended Impact Kits as a team building exercise for my office and the experience had a lasting impact on my team – some people still talk about that being the best activity we've ever done!" – Jillian Toda-Currie, Ambassador Board Member
You Have:
Interest in and willingness to become more familiar with Impact NW's mission and programs,

Active professional and/or personal networks in the Portland Metro area,

Willingness and ability to engage your professional and personal networks in support of Impact NW's mission and goals,

Desire and ability to commit 5-10 hours per month to Impact NW activities (e.g. Ambassador Board meetings, committee meetings, event support, etc.) for a minimum term-length of 2-years,

Prior volunteer experience required; prior board membership experience is preferred, but not required.
"My experience on the AB board has been everything I hoped for and more. Impact is an incredible organization and the fact I am able to contribute to their success in a meaningful way means a lot. As a masters student in nonprofit leadership I have thoroughly enjoyed  being able to interact and pick the brains of Impacts top executives and board members. I love serving as an ambassador board member because I get to work with a first class nonprofit while also continually gaining and improving my skills." – Garrett Raff, Ambassador Board Member
As a member of the Impact NW Ambassador Board, you have the opportunity to develop skills and widen relationships in the community all while making an important and necessary impact. 
How to Join? 
We hope you are interested in joining. To apply, please fill out this Google Form.
Email Ambassador Board Chair Jess Brown (ab@impactnw.org) for any questions or to learn more!