A Message and Invitation from our LGBTQ2SIA+ Committee
June 22, 2020
For over 50 years, Impact NW has united our community across all identities, ages and backgrounds. And within our own organization we do the same through active participation in committees and support groups. In ongoing support of our Black community during this important moment and in recognition of Pride, our LGBTQ2SIA+ committee has this message (and invitation) to share: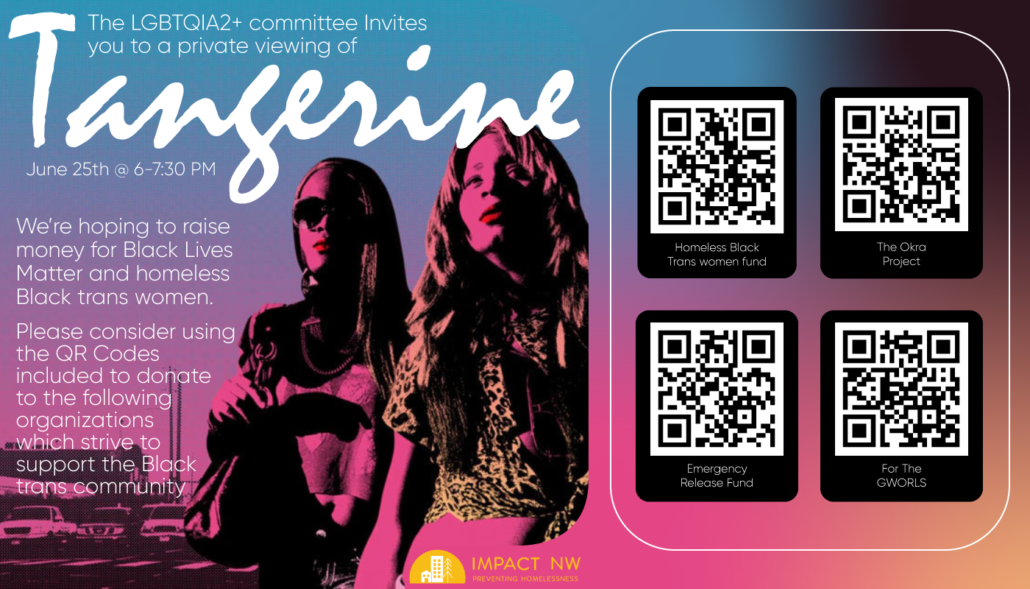 "Impact NW started its first committee last year. The committee is a safe place for LGBTQ2SIA+ members and allies to discuss current events, share support and engage the community.
Members of the LGBTQ2SIA+ community has suffered so much discrimination throughout history and that discrimination continues today and has been a tool used to make hate seem normal.  It is unacceptable! Gay marriage became legal only five years ago, and trans health care rights have been under attack by the Trump Administration. We have a lot of hard work to do.
As the LGBTQ2SIA+ committee, we want to show our support with our fellow Black Americans. They have suffered racism since the birth of this nation, and this needs to stop NOW!  We uplift the needs and leadership of queer Black folks. The LGBTQ2SIA+ committee and Impact NW are committed to advocating for our Black neighbors, learning and centering anti-racist practices, and unlearning the anti-blackness that permeates throughout our country. We stand in solidarity with our Black community members and Black liberation.
We owe much of the freedom and rights that LGBTQ2SIA+ folks have today to the Black Trans and Queer activists who fought 51 years ago at the Stonewall Inn. A year later, the progress made at Stonewall was celebrated and continues to be celebrated as Pride month in June."
Impact NW and the LGBTQ2SIA+ committee will be celebrating Pride and Black Lives Matter by premiering the movie "Tangerine" this Thursday @6pm via Zoom and You are Invited to Join us!
Please fill out submit your email in the form below and consider donating to any of the links above in support of the Black Trans Community.