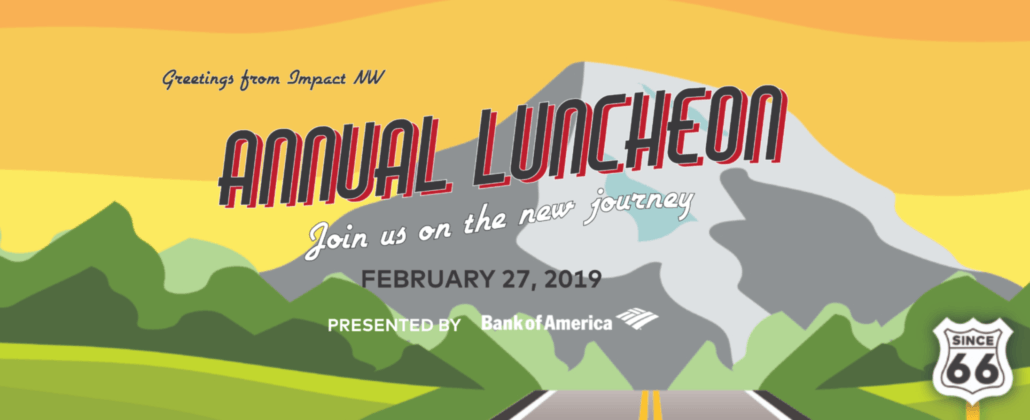 Thank you for supporting the 2019 Impact NW Annual Luncheon!!!
On Wednesday, February 27, 2019, we hosted our 2019 Annual Luncheon. We are grateful for donors and supporters who made it through the snow, school closures, and an untimely fire alarm (caused by a grease fire in a room below!). We heard an informative talk from Homer Williams about the housing crisis in Portland; watched a moving film showing Keia Henry's journey to obtaining stable housing; and unveiled our new strategic direction and brand identity! More to come on the brand identity roll out!


Thank you for supporting our work to prevent homelessness in Portland, and we look forward to strengthening partnerships in the months and years to come.
Thanks to our Sponsors
The 2019 Annual Luncheon would not have been possible without the considerable generosity of our corporate sponsors. Thanks to the following companies for supporting our Annual Luncheon and our efforts to prevent homelessness in Portland.
Bank of America (presenting sponsor)
BRIDGE الإسكان
First Interstate Bank
هافرنان لوساطة التأمين
Klarquist Sparkman، LLP
NW الطبيعية
Philadelphia Insurance Companies
العناية والصحة بروفيدنس
Vigor Industrial LLC
ويلز فارغو
قصة كيا
We were honored to showcase one of our program participants, Keia Henry, and her story of cultivating resilience and strength in partnership with Impact NW at our 2019 Annual Luncheon. Please watch the above video to hear her story!
Many thanks to Person People for producing this gorgeous client story film.