Independent Living Program
Experts estimate that 45% of youth leaving foster care become homeless within a year.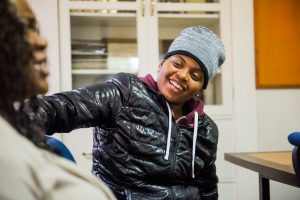 Young people who have spent their lives in foster care often struggle when they leave the system. Impact NW's Independent Living Program helps foster care youth ages 16-21 gain the skills they need to successfully transition out of foster care and into adulthood.
We work with participants at our North Portland location to set and reach attainable goals through one-on-one meetings, weekly job readiness classes, and social and skill-building activities and events. Participants are welcomed daily for classes, counseling, activities, and as a safe space to hang out.