Housing & Rent Assistance
Impact NW helps families secure safe and permanent housing through several different programs, depending upon the client's needs.
Low-income Multnomah County households have been hit hard by the national economic downturn—a recent report found that homelessness in our region increased by 8% between 2009 and 2011.
Our programs create opportunities and new choices for individuals and families who are experiencing homelessness or poverty.
The families who benefit from our Housing & Rent Assistance programs also have access to our wide range of anti-poverty services, including our Emergency Food Pantry and Energy Assistance.
Emergency Housing Assistance
Impact NW's Emergency Housing Assistance program is there to support homeless families in our community, many of whom are facing homelessness for the first time. By providing vouchers for short-term motel stays, placement in local shelters, and direct rent assistance, Impact NW supports families during difficult financial times and helps them transition out of homelessness.
Our staff works with each household to develop an individual support plan, which identifies goals and strategies designed to help them achieve financial independence, such as completing a job training program or obtaining their GED.
Bridges to Housing
Homeless families seeking shelter often face more obstacles to long-term housing than simply their ability to pay. A history of criminal activity, substance abuse, bad credit, and mental and physical disabilities can make it virtually impossible to secure a residence—and the alternative, a standard homeless shelter, is not typically a safe place to raise children.
Working closely with several community partners, Impact NW places approximately 60 high-needs homeless families into safe, affordable housing each year.
Impact NW's Bridges to Housing program meets the needs of homeless families by providing permanent affordable housing and intensive, strength-based family and child services. In addition, all family members are connected to health care, substance abuse treatment, school support, and employment opportunities.
Richmond Place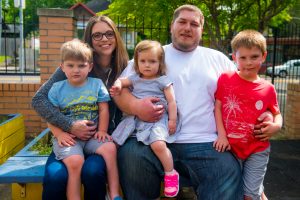 Our community's homeless families need more than a roof over their head to transition out of poverty—they need support, advice, and access to resources that will help them find a job and achieve long-term financial stability.
Richmond Place provides comprehensive services and case management to nearly 40 vulnerable households each year.
Richmond Place, Impact NW's transitional housing facility, consists of 20 drug-and-alcohol-free units to house extremely low-income Multnomah County families—many of whom have a history of substance abuse, mental illness, and domestic violence. We provide shelter for up to 2 ½ years, working with families to create to create individual Action Plans, which typically include steps such as earning a GED, completing a job-training program, enrolling in parenting classes, attending a financial literacy workshop, and enrolling their children in neighborhood schools and after-school programs.
Last year, 100% of families leaving Richmond Place reported increased life skills, and 92% had increased their income potential.
Families living at Richmond Place have access to job-readiness training through Impact NW's in-house Employment Specialist, positive volunteer mentors for children and adults, access to affordable healthcare through the Multnomah County Mobile Medical Clinic, and treatment for mental health issues and addiction through our community partner, Cascadia Behavioral Healthcare.