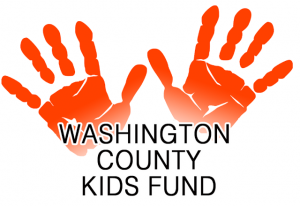 Washington County Kids lack supports needed to succeed in school, life
Investing in the future is prudent
The Washington County Kids Fund creates an opportunity to invest in our children's futures. Kids who are hungry or homeless with family difficulties and a lack of ability to study or even have fun cannot focus in school, limiting their academic success.  The Washington County Kids Fund Initiative proposes a relatively small investment with potentially huge cost savings and invaluable investment returns. Young people who become successful can in turn reinvest their time energy, and money into our community. YOU can help and here's why it is so important.
Alarming new data
Kids in Washington County fare better than those in many counties according to a new report released by Children First (Children First, 2015 County Data Book).  But do they? The picture is deceptive.  On examining a breakdown of county data provided by Children First, it is apparent that some minority groups in Washington County are not doing as well as whites and need more help. This outcome echoes the findings of the larger study for the state as a whole (Oregonian/Oregon Live September 23, 2015, Children of rural and minority Oregonians suffer, study says) but illustrates the problem Washington County has with the disparity between haves and have nots.
American Indian/Alaskan Native, Blacks, and Hispanics are falling behind in 3rd and 8th grade math and reading performance and graduation rates.
| | | | | | | | |
| --- | --- | --- | --- | --- | --- | --- | --- |
| | Population | Child Abuse** | 3rd grade Math | 3rd grade Reading | 8th grade Math | 8th grade Reading | Grad Rate |
| |   |   |   |   |   |   |   |
| Oregon (0-17) | 858,022 | 11.6 | 60% | 66% | 62% | 66% | 72% |
| Washington County (0-17) | 136,994 | 6.9 | 67.9% | 71.2% | 65.8% | 69.8% | 87.1% |
| American Indian/Alaskan Native | 1.6% | 14 | 58.8% | 68.6% | 53.8% | 53.6% | 73.2% |
| Asian/Pacific Islander* | 13% | 0.5 | 82.8% | 81.6% | 82.9% | 82.0% | 91.2% |
| Pacific Islander | 1% | | | | | | |
| Black | 41% | 6.7 | 48.1% | 64.8% | 42.1% | 54.3% | 73.9% |
| Hispanic | 25% | 5.9 | 46.1% | 46.9% | 42.2% | 46.8% | 69.2% |
| Multi-racial | | | 76.5% | 80.8% | 72.8% | 76.1% | 81.4% |
| White | 62% | 6 | 76.5% | 81.4% | 73.9% | 78.4% | 84.6% |
*Category combines both designations except Asians are separated from Pacific Islanders in population category
Source: CFFO County Data Book:  http://www.cffo.org/kids-data-center/county-data-book/
**Number per 1,000 children
Success in school does not come without additional support.  Early childhood programs such as Head Start and Early Head Start serve only a quarter of those eligible under Federal Poverty guidelines.
Parents face waiting lists for after-school and summer programs currently offered at Hillsboro Parks and Recreation and Tualatin Hills Park and Recreation.  Families with multiple children often cannot afford the programs even when subsidies are available.
Transportation can be a problem when programs are not offered at convenient locations such as schools. Approximately 63 percent of children under the age of 5 in the county have both parents working.  What happens when care is not available or is too expensive?  The average annual cost of child care for children under 5 is approximately $6,800 to $11,300 per year (Oregonian June 30, 2015, Child care in Oregon insufficient, costly, says new report, [average annual cost to enroll an infant in full-time care is $11,322 at a center and $6,885 in a family child care. Average annual fees for a 4-year-old in full-time care are $8,787 at a center and $6,761 at a family child care.]).  Parents in poverty cannot afford it even when it is available.
Although the childhood poverty rate is 13.8 percent for the county as a whole compared to 21.6 percent for Oregon, the poverty rate for Blacks and Hispanics is 20.6 percent, and 30 percent respectively.
Geography
Race/Ethnicity
Child Poverty Rate
Margin of Error (95% CI)
Rest of State
NH White
17.8%
+/-0.8%
Washington County
NH White
8.6%
+/-1.48%
Rest of State
Asian
16.5%
+/-2.59%
Washington County
Asian
5.8%
+/-2.69%
Rest of State
Pacific Islander
35.0%
+/-8.72%
Washington County
Pacific Islander
13.8%
+/-14.26%
Rest of State
American Indian/Alaska Native
30.0%
+/-4.59%
Washington County
American Indian/Alaska Native
11.6%
+/-8.15%
Rest of State
NH Black
39.7%
+/-5.38%
Washington County
NH Black
20.6%
+/-8.47%
Rest of State
Latino/Hispanic
35.6%
+/-2.61%
Washington County
Latino/Hispanic
30.0%
+/-5.26%
Rest of State
Children of Color, Total
30.6%
+/-1.73%
Washington County
Children of Color, Total
19.4%
+/-3.09%
Source: CFFO Analysis of ACS PUMS data, 2009-13
A solution
The Washington County Kids Fund has proposed a special property tax levy to the Board of County Commissioners for the November 2016 ballot.  The funds that would be raised would be allocated to existing, expanded, and additional programs that would provide quality child care and academically focused after-school and summer programs.
Similar children's levies have been passed in Seattle, Oakland, Portland, Florida, and Missouri.  Those communities found the investment is worthwhile; children in those programs do better in school and are more likely to graduate.
Widespread support
A poll of County voters showed that the majority would vote in favor of such an initiative.  As Frank Bubenik, Tualatin City Councilor recently stated to County Commissioners, "Poverty has increased in Tualatin dramatically over the last 10 years and many of these families need assistance in order to have their children grow up to be successful in school and as adults.  Hunger, child abuse, the inability to pay for daycare, and inability to join in on summer programs puts many of our youth at a huge disadvantage and increases the chances of the children sliding into an "at risk" status.  Let's deal with the issues before they become a bigger/harder/more expensive problem to solve"
Bubenik continued "This measure/levy will help fund early childhood, after school, and summer programs that have been targets of decreased funding at all levels of government in the past few years.  Please help in the cause to create a sustainable source of funding for keeping/growing proven and successful programs that support school success."
Expected outcomes
It is expected that outcomes from the Washington County Kids Fund initiative would be similar to the results from other initiatives throughout the country:
Higher academic success in school from participants
Increased family involvement
Amelioration of hunger for those in poverty
Higher graduation rates
Decreased crime by adolescents
Decreased victimization of kids
Costs
The levy cost as proposed would be between 10-35 cents per $1,000 of assessed valuation for property owners.  For the average homeowner in Washington County that would mean approximately $26-$90 per year (depending on the taxation level).
How the money would be used
The initiative would raise approximately $6-20 million per year, of which all would be allocated to children's programs except 5 percent.  It is proposed that the County would provide its taxation, personnel, accounting and other support services for 5 percent of the funds to maximize efficiency.
The allocation of funds would be coordinated by a small staff under the supervision of a council that would make recommendations for funding to the Board of County Commissioners.  Allocations would be in response to a request for proposal (RFP) process that would solicit and accept proposals from non-profits, schools, and other eligible groups. The RFP's would ask responders to target early childhood, after-school, and summer programs that follow best practices and give priority to serving those most in need.  Proposals would be reviewed by small committees of volunteers who would make recommendations to the council for final recommendations to the Board of County Commissioners.
The levy would be for an initial five-year period.  It would need to be renewed by the voters every five years thereafter.  The November 2016 election is proposed for the initial vote.
Why now?
The timing is excellent for consideration because it will be a presidential election and more voters turn out for these elections than for any others.  This will give more voters a chance to decide on their desire to help close the gaps for kids to promote their academic success.
Having a dedicated funding source for children is of paramount importance.  Funding by cities, the county, and the state has steadily decreased in recent years. The state Commission on Children and Families and its allocation to the county was discontinued in December 2013.  The county has not filled in the void.  The state has funded an Early Childhood Hub but those funds go to Family Resource Centers whose services have been cut due to the loss of the Commission on Children and Families.
United Way supplies some funding but hours and services are limited.  Hillsboro provided some funding to its Parks and Recreation Department for an after-school program in conjunction with a Safe Schools/Safe Students grant that the Commission obtained.   When that grant ended, many schools were no longer able to be served.  Hillsboro families now face long waiting lists.
Forest Grove has an aquatics center but no after-school programs.  Currently, there are no dedicated county funds for children.  Some funds support Head Start and Early Head Start but those funds are largely state and federal monies that the county administers.  21st Century federal grants to fund community schools (largely after-school) were obtained by schools in Forest Grove and Beaverton; however, the grants are usually for five years and cannot be renewed for the same school.
Other sources of funding are needed now.  The Tualatin Hills Park and Recreation District provides programs but has waiting lists.  Sherwood has a YMCA program but offerings are limited.  Non-profit programs such as Centro Cultural and Adelante Mujeres provide after-school and summer programs but those funds must be raised from donors and grants.
Sustainable funding is needed throughout the county for these programs.  What is being proposed would not cover the total need but, depending on the level of the levy, would make a large contribution toward serving the kids who are most in need.